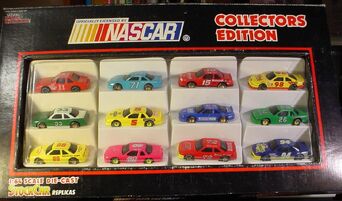 These are sets of 12 incorrectly assembled 1/64th Nascars and in the diecast collector community are considered Errors. They were assembled by Racing Champions LTD in Hong Kong, the parent company of Racing Champions Inc, sole US distributor. They came about when the production of black window cars were being fazed out and upgraded to the new Premier line of cars in 1992-3 with clear windows and interior and rubber tires. Somewhere along the line they assembled many of the left over bodies and bases without regard to being correct, and in some cases promotional cars included. They packaged them in 4 packs, 12 packs and single blisterpacks. The 4 and 12 pack sets were shipped directly to
Toy Liquidators,
a toy outlet store and did not show up in mass retail stores like the correct assembled issues were. Some single blisterpacks did show up in stores like Toy's R Us.
Toy Liquidators
sold these sets for $4.99 for the 4 packs and $9.99 for the 12 packs.
All the Error 12 packs had the cars mounted on a Lt Grey plastic stadium insert, rather than a Chrome insert like the correct 12 pack sets.
The combinations are random with many having a Pontiac base on a Buick or Chevy body, Some without fender decal groups, Wrong color rims, Mixed "Racing Champions" and "Goodyear" letter tires, Some having totally a correct car in the batch. Rarity? At the time according to
Toy Liquidators
, they only received 1 shipment, distributed among their store outlets. No comparison to a regular correct production run issue amount. Value? Very speculative, and in the truest sense of what one collector will agree to pay another collector. To a variation collector whose personal challenge is to acquire each issue down to the most minor difference, could test ones sanity!

There were also around the same time some very rare Black Box 1/24th scale cars issued which were correctly assembled, BUT as Clear window cars, never seen before as such. Some were ORIGINALLY ONLY issued as 1/24th banks, and previously unreleased issues. They command some very high prices today among collectors. QuicksilverDiecast 23:35, February 9, 2011 (UTC)
Community content is available under
CC-BY-SA
unless otherwise noted.